03-03-2009: Donors from his native place are willing to support her. So, no need of our help.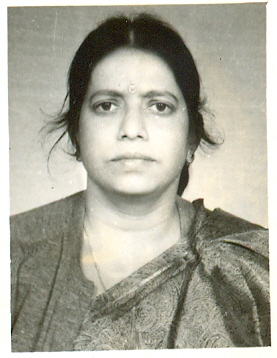 31-01-2009: Kishore collected cheque of Rs.1000 given by Anjuman Foundation (AF).
Volunteers: Disha/ Anil Kumar BVN/Jithendra/Kishore
13-12-2008: Kishore collected cheque of Rs.1000 given by Anjuman Foundation (AF).
06-12-2008: As she needs financial support urgently, we sent a cheque to her for one month medicine (Rs.5011). We applied for Anjuman Foundation also and have to wait till coming Saturday to know their interest to support.
Volunteer: Disha/ Anil Kumar BVN/Jithendra
29-11-2008: Anjuman foundation asked us to contact after 8 th Dec.
22-11-2008: We issued cheque of Rs.5011 infavor of Novartis India Ltd to support for her one month medicine. This cheque is sent by Pavan Pyda to her through Registered Post.Pavan Pyda submitted residence proof of her to Anjuman Foundation which is mandatory to process her application. Their decision will be known to us by after 6 th Dec.
16-11-2008: Anil and Kishore filed this case with Anjuman Foundation. We need to submit Residence proof letter from nearest Masjid to Patient's home. Disha informed the same with the patient. They sent on last Friday. Once we receive it, Kishore will submit it to AF. AF will inform their decision after their monthly meeting on 8 th Dec.
01-11-2008: Disha talked to Mr. Chowdhary regarding Residence certificate from Masjid nearest to their home. Once if we get this, we can proceed to apply for Anjuman foundation. This will be done by this weekend. It will take time to get support from AF. As they are in needy position right now, we will support them for one month by sending cheque in favor of Novartis, Calcutta.
Volunteer: Disha/ Anil Kumar BVN/Jithendra
04-10-2008: She is 50 yr old from Jamshedpur, has undergone the kidney transplant operation 4 yrs back and needs Cyclosporine drug for life long.
| | | |
| --- | --- | --- |
| Medicine | Quantity per month | Cost pm (in Rs) |
| Cyclosporing 25 mg | 60 | 2058 |
| Cyclosporing 50 mg | 60 | 4116 |
| Cellcept 500 mg | 30 | 90 |
| Total | | 6264 |
PRAY foundation has been supporting her by providing one pack of Cyclosporine 50 mg which contains 50 tablets. So she needs Rs. 15,362 for 3 months.
Patient Name: Mrs. Sushila Devi
Age: 50 yr
Address: W/o Mr. Mahesh Choudhary,
#16, Nanda Area,
Line No: 1, A Block, Golmuri (P),
Jamshedpur, Jharkand.
Date of Transplant: 18/09/2001
Hospital Details: Karnataka Nephrology & Transplant Institute,
Columbia Asia Medical Center, Kirloskar Business Park,
Bellary Road, Bangalore
Phone: 080-41791010
Website: www.kanti.com, www.columbiaasia.com
Doctor: Dr. S. Sundar