| | |
| --- | --- |
| Donor Name | Amount |
| Harish Velamati |         1503 |
| Pratap Koyi |         500 |
| Srivathsala Chikkam |            5001 |
| Sudhakar Oggu |         3000 |
| Kishore Kumar Javvaji |            3000 |
| Mandala Jaggal |            2000 |
| Haritha |            4000 |
| Lakshmi S P |            1000 |
| Total |       20004 |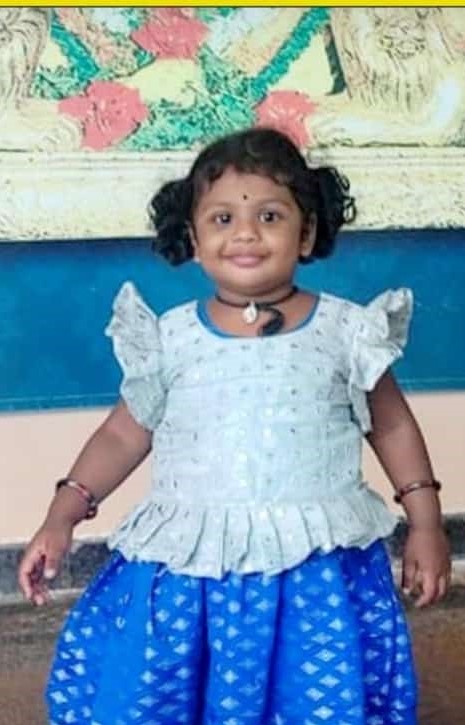 Volunteers: RLV Prasanna, Dr. Ajay Prasad Vakati, Kishore Kumar Javvaji and Saravanan Govindan. Special thanks to Nukaraju, who did physical verification on our request and he is from same town. 
12-Oct-2021: Lakshmi Sahitya consulted neurosurgeon at kanchi kamakoti hospital and they advised same medications to be continued for another 15 days and come for consultation after 15 days. Our Volunteer Dr.Ajay Prasad also consulted a doctor in his workplace and they said that the doctor will evaluate the size of brain tumor after 15 days and based on that, they might decide on surgery. Recent MRI reports suggest that the clot is sized about 6×5mm.
11-Oct-2021: Doctor suggested them to meet neurosurgeon to discuss about plan of surgery. Tomorrow they are going to meet neurosurgeon for further discussion. They have shared few reports for test which was taken on Saturday.
09-Oct-2021: In Kanchi Kamakoti hospital,Chennai  Doctor did few tests and in that  few reports are pending. So they are staying in Chennai. They spent  around ₹10 to 15k for tests. They explained about their financial status to Dr. and the hospital management and this hospital already supported for low financial background patients earlier too. Hence Lakshmi's family mostly will continue treatment in this hospital.
08-Oct-2021:  They went to CMC Hospital, Vellore  for Dr consultation. Unfortunately they had taken wrong Dr. appointment instead of Brain. So they did fresh appointment and were asked to come on Monday. Meanwhile they travelled to Chennai to visit Kanchi Kamakoti trust child hospital. Our Volunteer, Dr. Ajay was also enquiring in SVIMS Thirupathi, if required today / tomorrow patient will visit SVIMS as well before going to CMC on Monday, then they will decide best out of 3 for treatment.
Details of the Needy 
Lakshmi's father Mani is  working in a tiffin hotel in their town, earning ₹300 per day. They were shattered when they came to know that their daughter is having health issues and would need more money for treatment. Their relatives helped them by supporting ₹50k for Lakshmi's treatment. Their aunt (Lakshmi's ammumma) promised that they will arrange around Rs.1 lakh. Lakshmi's family was able to  arrange ₹1 lakh  by selling pustellu ( Thali botlu, gold etc). With all this, they were able to arrange upto ₹2.5L. Rainbow hospital, Hyd informed them it may cost around ₹5L to  ₹6L. So they re looking for financial assistance for the remaining amount. There were also planning to go to CMC, Vellore, Tamilnadu to see if there will be less costly treatment. We also suggested them to check /enquire  in Kanchi Kamakoti Trust Children hospital, Chennai. They have time upto 1 month to start the treatment for baby.
Name: Grandhi Lakshmi Sahitya
Date of Birth:13/09/2019
Age: 2 years
Father Name: G.V.S.S.Mani Kumar
Father Occupation: Daily Wage Labour
Father Income per month: 12000
Mother Name: Sorojini
Mother Occupation: House wife
Mother Income per month:   NA
Sibling's details (Occupation, Income etc.): Brother (4 months)
Total Family Income per month (in Rs.): 12000
Eligibility of Government Schemes: 
Current Address:17-242, Chaitanya Nagar, Yeleswaram, East Godavari, Andhra Pradesh
Contact No: 9849972656
Permanent Address: 17-242, Chaitanya Nagar, Yeleswaram, East Godavari, Andhra Pradesh
About Problem:  Blood Clot in brain
Help required (Ex: Operation Cost, Room rents etc.): Operation cost approximately 5 to 6 lacs
Last Date to pay the Amount: In about 30 - 40 days
Hospital Address with Doctor Name and Contact no: Rainbow hospitals, road no-2, Banjara hills, Hyderabad.
---------------------------------------------------------------------------------------------------------------------------
Please support the student by sending your contributions to the below account from your India account only. Even Rs. 100 also Makes A Difference to the needy.
FOREIGN TRANSACTIONS ARE NOT ALLOWED AS WE ARE NOT ELIGIBLE.SO IF ANY ARE INTERESTED PLEASE DROP A MAIL TO This email address is being protected from spambots. You need JavaScript enabled to view it. FURTHER WE WILL GUIDE YOU
DONORS WITH AN ACCOUNT IN INDIA MAY TRANSFER THEIR CONTRIBUTIONS TO THE BELOW ACCOUNT:
Account Name: TO MAKE A DIFFERENCE (TMAD)
Account Number: 000801210382
Account Type: Current
Branch: CIBD, Hyderabad
NEFT/IFSC/RTGS Code: ICIC0000008 
NOTE
All donations to TMAD are exempted from income tax under 80G.

Request to send a mail to

This email address is being protected from spambots. You need JavaScript enabled to view it.

, 

This email address is being protected from spambots. You need JavaScript enabled to view it.

 

with the details of your transaction and the name details to issue the receipt.

The receipts will be issued within a month of receiving the contribution.

Any queries related to donation can be sent to this ID:

 

This email address is being protected from spambots. You need JavaScript enabled to view it.